Safety is always the highest priority on a welding job site. A worker can always repair a piece of equipment or grind out a bad weld and re-weld a joint. However, a personal injury can be permanent. Hazards in welding can include hot metal burns, arc burns, hearing loss, dismemberment, and loss of eyesight. All of these potential hazards should be taken very seriously. Which is why there are plenty of product offerings to choose from in the personal safety category. Before starting any welding operations, safety equipment should be purchased or borrowed then used.




SAFETY GLASSES
Your eyesight is your greatest tool, hands down. You should treasure and protect your eyesight at all times. The welding process can be hazardous to your eyesight, whether it is from stray bits of flying metal from a grinder, spatter from a welding arc, or hazardous welding arc rays. You should get into the habit of always wearing your PPE when in a work environment. Always wear clear safety glasses while near welding or cutting areas. It is also recommended to wear specially shaded goggles while cutting with a torch or gas welding. As a general rule of thumb, wear a #3 shade lens for cutting with a torch. A #5 lens is recommended for brazing. Since application varies, consult the lens manufacturer's recommended shade level for your use.
---
HEARING PROTECTION
Your second most important piece of personal protective equipment is hearing protection. Hearing loss is serious because it is often permanent. Loud job sites can easily reach and exceed the 85-decibel (dB) level. At this level, OSHA requires hearing protection. Welding processes are inherently loud. For example, an angle grinder can be at the 110 dB level. A carbon arc gouge process can be up to 118 dB. In the example of carbon arc gouging, 118 dB is considered very loud. 118 dB is very near what an airplane taking off produces. The rule with dB levels is that prolonged exposure to higher dB levels will cause permanent hearing loss unless you wear your hearing protection equipment.
---
STEEL TOE BOOTS
The purpose of steel toe boots is quite simple. They are to protect your feet from falling objects. Which in a welding shop would most likely be a piece of metal. It is important to know your work area well. Especially since the environment you work in will dictate your footwear. Whereas a small welding shop might only require composite toe boots for a lower standard of safety, a shipyard with multi-ton objects being moved around would require a different pair of boots. If you ask any seasoned welder they will tell you that being comfortable is important. Comfort is king because comfort means more attention is paid to the task at hand.
---
The most obvious piece of PPE to perform any welding task is the welding helmet. Welding helmets come in 2 main categories, auto-darkening, and fixed shade. Auto-darkening welding helmets have ultra-sensitive sensors in the front, facing the weld. And, once the welding arc starts the auto-darkening mechanism darkens the lens. It is hard to believe that the automatic lens can react and darken so quickly. Incredibly, the technology is such that the auto-darkening feature turns the lens from lightly tinted to full dark in just milliseconds. This is achieved by sending an electrical current to liquid crystal cells inside the lens. This signal functions to turn the lens dark. It is easy to understand how this product made the 7 Protective Equipment Essentials for the Welder.
---
While working on welding projects, you will learn very quickly not to grab metal in welding areas. It is wise to tap it with your hands first to make sure it isn't hot. Welding gloves will certainly help insulate your hands from extreme temperatures which come from hot, molten metal. When you need to move a plate of metal which you have just welded on, don't grab it with your gloves. Even if your gloves insulate your hands from high temperatures, those temperatures could burn your gloves shrinking the leather using them up prematurely. Instead, use pliers or clamps to move your metal workpiece around. As far as thickness goes, welding gloves can be split into two categories. These two categories are Heavy duty welding gloves for stick and MIG welding and thinner gloves for TIG welding.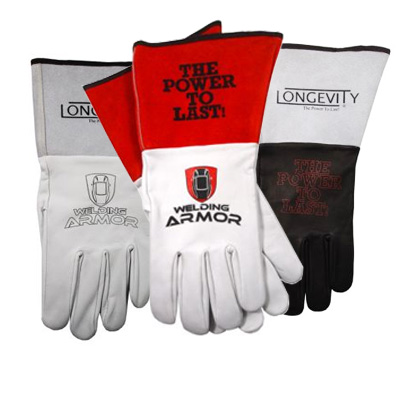 ---
LEATHER / FLAME-RETARDANT COAT
You will quickly understand the safety risk of not wearing protective clothing while welding once you have experienced weld spatter burning a hole through your favorite shirt! Leathers or a flame-retardant coat should be worn when you are welding. While stick welding you should always wear leathers to prevent arc spatter from burning your skin. Especially while welding out of position, vertically or overhead. Leathers typically consist of a bib front with full sleeves. Or they can be a full jacket design. Both of which will be sufficient for stick or MIG welding. While MIG or TIG welding a flame-resistant coat will be adequate.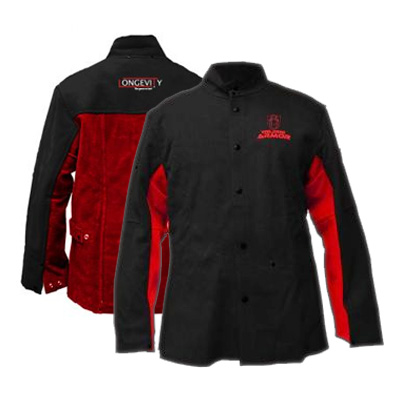 Protective Equipment Essentials